Wells

CLEAN WATER
Clean water is one of the most basic needs for survival. Although most of Cambodia has plenty of water, what is available to the majority of families is either natural surface water, or water made available in shallow, hand dug, Pit Wells. Both of these sources are filled with mud, insects and disease, and covered over by even dirtier water during the yearly floods. Putting in a well with a simple hand operated pump allows access to clean underground water. Having clean water from a reliable source not only allows families to have water for cooking and drinking but also allows for bathing and laundry, all of which reduces the causes of disease and illness. In addition to better health and hygiene, the families will have the opportunity to plant an additional crop that does not rely on seasonal flooding for irrigation. This additional crop creates a more balanced diet and creates an economic opportunity by enabling the family to sell excess produce at the market. The primary goal for FWEC is to offer relief, not continuous aid. In having better health and economic opportunity the families are able to prosper and become self-sufficient.
The equipment that we install is simple, something we believe is critical in any solution. We are installing wells and pumps that can be maintained with simple procedures, and that do not place an economic burden on those that receive them. FWEC is proud of our efforts in the use of Cambodian materials, personnel and resources, whenever possible. We believe that this helps others towards individual success.
FAMILIES WAITING FOR A WELL
There are many families that we have completed our assessment with and are awaiting a well. Come and visit our gallery and meet the families and villages whose needs we are trying to meet with your help. During the assessment process we look at several aspects of the families and their situations. Our first step in any area is to work with the local administration to establish who has the greatest need. We will then meet with the family and explain our expectations. We ask that they not only take care of the well and equipment but also, that although the well will be located at or near their home, it is intended to be communal and shared with their neighbors. The short and long term care of the well is also communal and they will be completely responsible for the well after 6 years.
Click to visit Families in Need
There are 3 sizes of wells that FWEC installs.
• SMALL WELL 50 mm (1.96 in) pipe diameter $200.00
This is by far the most common well, this size well and the equipment needed to install it are capable of reaching to the underground water sources in most of the areas that we are working.
• MEDIUM WELL 60mm (2.36 in) pipe diameter $515.00
Occasionally, there is a situation where the ground conditions, water table depths or access to the area dictate the use of a larger well and different drilling equipment. This medium sized well can be effectively installed and is able to meet the needs in these areas.
• LARGE WELL 100mm (3.93 in) pipe diameter $815.00
In areas where conditions are the most difficult, usually due to the depth of the water table, the best decision is to put in the large well that will serve a small group of families or a village. This enables us to meet the water needs of a larger group more economically.
Cost Breakdown of a well PDF(Link Pending)
EACH WELL INCLUDES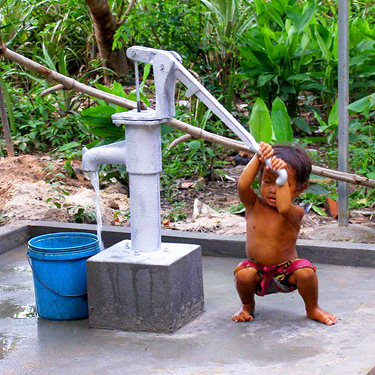 · A well drilled to the average depth of 20 to 30 meters. The average water table penetration is 7 meters
· Installation of PVC piping and hand operated Steel pump. The Steel pump has been shown to perform the best under the conditions of the area.

· Installation of concrete apron around the well head to improve sanitation and function.
· A sign acknowledging the donor
· Information about each well is included on our website. The information will include; pictures of the well and the families that received it, basic information about the donor if they wish, GPS coordinates of the well and a link to our interactive map that shows the location on Google Earth. If the donor would like visit their well or anhy other project while visiting Cambodia, they simply need to contact us and we will help them with the arrangements. Many of our donors have been able to visit and have shared their photos with us, you can see many of them on the Photo Gallery page
ADDITIONAL ITEMS
The underlying principles behind the efforts of FWEC is creating an opportunity for the poor families to create an economic independence and future. The receipt of a well is the start of this process. Once the family has access to water they can now use that water to sustain aggricultural efforts. To realize this potential, FWEC donates what we refer to as Accessories to the well. These items help the families achieve financial success. There is no shortage of effort amongst the Cambodians, only a shortage of the basic tools. These items may be given in conjunction with a well or separately. There are families that may already have received a well, but could use the added benefit of one or both of these items.



CISTERN for the storage and clarification of water* $45.00
CERAMIC WATER FILTER (CWF)* $14.00 CWF Specifications - PDF (Link Pending)
*Although the water that is supplied by the wells is clean and potable, there is a very slight trace of sediment. This sediment is extremely fine and the water has a nice clear appearance (Low Turbidity). Allowing the water to sit for a short period of time or the use of a basic filter will eliminate this sediment and prevent complications from long term (25 - 30 year) mineral consumption.
Water Analysis Report - PDF (Link Pending)
From Left to Right; • Small scythe for harvesting rice • Large grass knife for controlling grasses and weeds • Small spade or trowel for separating out and dispersing the rice plants • Heavy hoe for tilling soil and irrigation control • Spade /shovel for digging, tilling and irrigation control. Why do we supply the tools without handles? Because the farmers are very capable of making their own handles, they just can't make steel.
Chickens - don't plan on spending a night in Cambodia without expecting to hear a rooster crowing in the morning. Chickens are easy to raise, are excellent foragers and are a good source of protien. FWEC is active in supplying poulry to the rural families that are not fortunate enough to be able to purchase the initial breeding stock to start their own flock. At $7.00 / kilogram, and there are several chicks per kilogram, you can make it possible for a family to start raising their own poultry. In addition to being a source of protien through both the eggs and meat, poultry is also a source of revenue through the marketing of the excess stock raised.
In 2012 FWEC started a program of supplying the initial fish and food to enable rural families to raise fish. The program is based on the principles and practices already in place in Cambodia. The Siem Reap region has one of the richest fresh water fish populations in the world, the problem is having access to catch them and having the resources to raise them during the dry season. The Fish Farming Program of FWEC addresses these issues and allows for the families to have yet another means of achieving long term financial stability.
FWEC field personnel will meet with the family and insure that they fulfill the basic requirements. We offer the opportunity primarily to families that have received a well from FWEC and fulfill some basic criteria;

They have a reputation of reliability with their neighbors and village administrators

They have shown some initiative with the well that they received from FWEC, usually in planting a vegetable garden

They have the ability to excecute the work that is required for the fish farm to be successful

The family must dig a pond approximately 2 meters wide by 5 meters long and 1/2 meters deep in a suitable location that is protected from flooding. They must also line the pond with white plastic to insure that the water does not leak and they should build some shading to protect the fish from the heat of the sun.

The family must change the water every 2 weeks to insure that the oxygen levels stay high enough for the survival of the fish.

FWEC will supply the initial batch of 10-15 kilograms of baby catfish. The catfish that are used are native to Cambodia and are a very successful breed to use for local farming. FWEC will also supply enough food to feed the fish for the first 3-4 months.
It becomes the families responsibility to plan for the purchase of future fish and food. The fish raised will be both a food source for the family as well as a source of revenue, and they must be willing and able to balance both of these issues to insure long term success. Breeding the fish in captivity has not been very successful without the means of separating out the young as the adults will eat them. However, since the fish are native there is the opportunity to trap baby fish in the floodwaters and utilize them as future stock.
INFANT NUTRITIONAL SUPPLEMENT $14.00
In an effort to offset the effects that the poor diet of the mother has on a nursing baby, FWEC works with the support of our donors to supply an Infant Nutritional Supplement to those families we come in contact with during the assessment process for receiving a well. This is a powdered formula that is not intended to replace nursing, but to supplement it and help the child receive a more balanced and enriched diet.
For more information on Dumex products click Here.
For a report from the World Food Program on Cambodian Children's Nutritional Status click Here .
SUPPORT AND REPAIR OF WELLS
In January 2013 FWEC initiated a program for the support and repair of the wells that we install. Included in the costs for each well are funds to address any needed repairs to each well for a period of 6 years. These funds are set aside in an account and are used solely for the subject well. In our initial assessment process each recipient, whether it is a family or village, is made aware of the communal intent of the well in addition to their responsibilities for the care and maintenance. After the 6 year period expires the recipients become fully responsible for the well. If all of the funds that have been set aside for repair were not used, they are combined with funds from other wells that have matured and a new well is installed elsewhere.
ORPHANED WELLS
In January of 2013 FWEC initiated a program of locating and repairing what we refer to as "orphaned wells". As we are working in different areas we will occasionally find a well that is no longer functioning properly. These are wells that were installed by organizations other than FWEC, but no provisions were made for their repair. As we work in an area we try to locate these wells, map their locations with GPS, and add them to our list of wells in need of funding for repairs. If you are interested in donating for this purpose please visit our Orphaned Wells page. It is almost always more economical to repair what is in place instead of installing a new well. Either way, the families that get to enjoy clean water again are extremely grateful.
We are proud to say that at this time all of the wells that were installed by CWEP and FWEC are functioning perfectly. However, it is important to note that if there is ever a problem with one of these wells that were installed prior to 2013, there were no funds set aside for repairs. We ask that our previous donors check our newsletter or the Orphaned Wells page in case there is an issue with a well they donated towards. Many of our donors have "adopted" their wells and have made themselves available to financially assist in the event of any needed repairs. If you have donated a well in the past with CWEP or FWEC, and would like to adopt your well, please contact us and let us know you would like to make yourself available in the event that repairs are needed.
LINKS
Method of Drilling a Small Well
Method of Drilling a Large Well