Volunteer

Volunteers are always welcomed to work with FWEC, for example by giving English lessons, working on a construction project or organizing a fundraising event. Please contact FWEC Founder and Director
Chantrea Chhuon
. Chantrea would also be willing to help you combine your volunteer work with visits to the cultural sites of Siem Reap through the
Cambodia Tour Guide & Travel
.
---
February 2013
Mrs. Tina Etherington
Volunteer Teaching English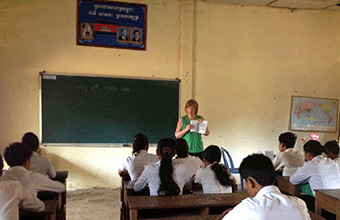 In February 2013, Tina came to Siem Reap for a second time. After the fist visit in November of 2012 Tina wanted to return with her son Lewis to show him some of the work being done by FWEC and to visit some of the families to whom she had donated wells. Tin and Lewis had a the opportunity to travel to the countryside and see first hand the process of drilling a well. While traveling around Tina took the opportunity to donate clothing and school supplies to the children of the families as well as sponsor 2 girls in their effort to complete their education. One of the highlights for Tina was to be able to spend some time at the SRET village Secondary School and teach English to a very enthusiastic class of students. FWEC works in collaboration with the school to bring in volunteer teachers to augment the existing program. It is of great benefit to the students to work with native English speakers.




Video Clip of Tina Teaching English


---
December 2012

Mr. Matthias Radek (Germany)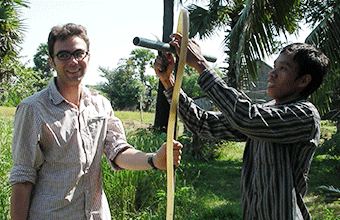 CLICK FOR PHOTOS GALERY

Mr. Matthias Radek Volunteer Drilling the well (12. 12. 2012)
Matthias is a friend of Graciela, who is from Germany. Matthias came to Siem Reap and had an opportunity experiencing the drilling a small well with the teams of FWEC. He had enjoyed very much on the local expertise of the well drilling, especially he had taken to visit the benefiaries of the wells who have helped.

Matthias is a young generation with enthusiastic willing to help those people in need the clean water. He donated his value time on the site of FWEC project to work together with its teams and to learn about the livelihood of the Cambodian people in the remote villages of Siem Reap. Bellow here is a video clip of Matthias's activity on volunteer drilling the well.
Video Clip of Volunteer Drilling the Well
---

Mrs. Maria Hicks Volunteer Teacher




On 26 November to 5 December, 2012 Maria came to Siem Reap-Angkor a second time for her Half Marathon run at Angkor Wat and for her evaluation mission to CWEP. On the rest of the days Chantrea took Maria to see the wells at the site of project and to see the families she have helped. Maria had a good opportunity to learn about the living of the people of Cambodia in the rural areas and she had a great chance to be a volunteer on teaching the English to students in school as well. Maria is a great humanitarian as willing non-stop on supporting the CWEP to help those people in needs and especially she is also supporting some girls with motivating them to school by providing the annuity for the extra lessons until they graduate high school.

Thank you so much and most appreciate to Maria that always help and stay with the poor people of Cambodia.
Video Clip of Maria's Teaching English