Our Team
Meet Our Team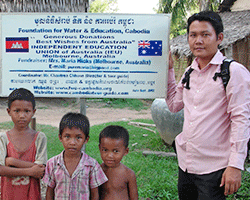 Chantrea Chhuon
Siem Reap, Cambodia
Founder / Director
E-mail: Chantrea@FWE-Cambodia.org
Skype: Chantrea7
Calls/WhatsApp: +855 93 3456 57
Chantrea is the Founder/Director of the FWEC, he grew up in a rural area in Battambang province. After graduation from the Hotel and Tourism course at University Chantrea started his career as a licensed tour guide. While guiding tours in the rural surrounds of Siem Reap he encountered the type of poverty he had seen and experienced as a youth, poor water quality, lack of regular food and under resourced schools.
In 2010, motivated by the idea of providing these families with opportunities to live healthier lives and develop economic security, Chantrea started the Clean Water and Education Project (CWEP). This early project has become the Foundation for Water & Education, Cambodia (FWEC).

Chantrea lives in Siem Reap and travels around Cambodia with his travel business while continuing to build new wells, liaise with community leaders, families in need and educators. His original concept of bringing clean water to rural communities has developed to included projects such as infant health, helping volunteers to teach English, computer and text book supplies to schools. This work is supported by a team of international volunteers who continue to be inspired by his energy and passion for improving the lives of the poor in rural Cambodia.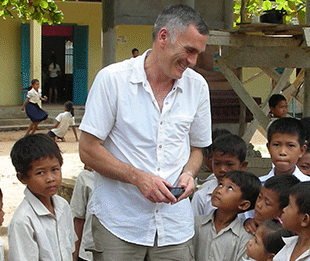 Paul Grady
Bend, Oregon United States
Executive Consultant
E-mail: Paul@FWE-Cambodia.org
Skype: Paul.2149
Paul joined with FWEC in 2011 and he brings his Engineering and Project Management background to the group. Paul has made 6 assessment trips to Cambodia, ranging from 2 to 6 weeks. His efforts have helped FWEC expand their efforts while maintaining good accountability and to, as another member puts it, "keep it simple". He enjoys the genuine gratitude of the families that are helped and the fact that materials and labor are resourced locally whenever possible. He states, "My decision to help with the efforts of FWEC was a result of the simplicity of the solutions being used, the transparency of the group and the sustainability of the efforts. I wanted to do something that more than just helped, but that could make a difference." Paul lives in Bend, Oregon and is available to speak with anyone that wishes to help with our efforts.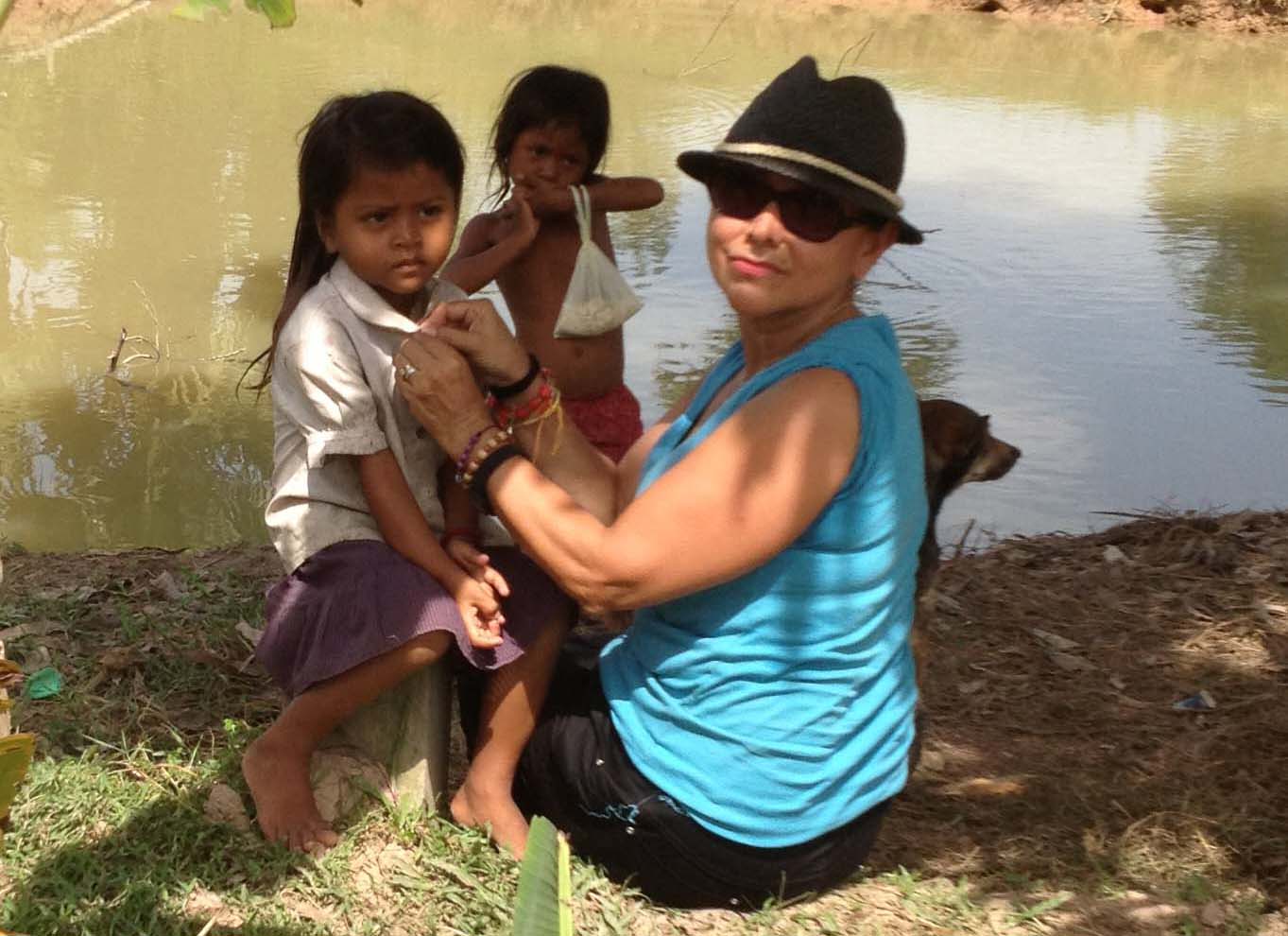 Graciela Andrade
Rome, Italy
Fundraising Coordinator
E-mail: Graciela@FWE-Cambodia.org
Skype: graciela.andrade11
Phone: +3934 855 9 1010
Graciela is a national of Ecuador and resident in Italy. Through her working experience in the humanitarian field, she became commited personally with many humanitarian projects world-wide, including FWEC. After having visited Siem Reap in 2010 Graciela and Chantrea launched the project with the donation of a first well. "I am inspired by my belief that economic growth must be inclusive, equitable and balanced such that it promotes sustainable development and that education is the most powerful tool to self-sustainability and well-being. I feel grateful, fortunate and happy for having the possibility to work for the less fortunate". Graciela supports the project with international fund-raising, networking with other humanitarian initiatives, and enjoys visiting Cambodia and doing field work with the Team.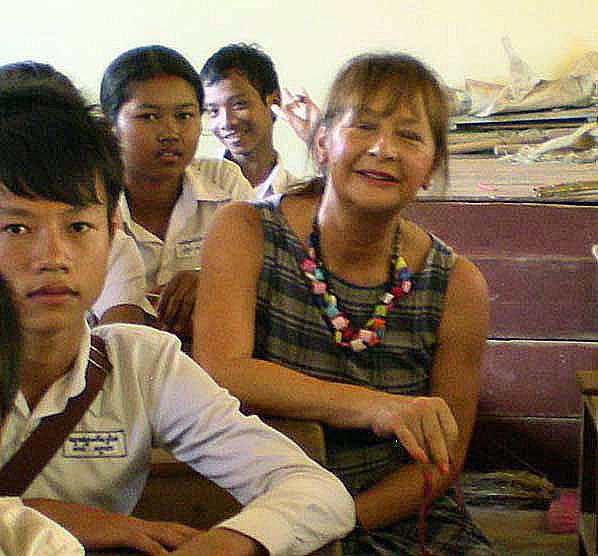 Maria Hicks
Melbourne, Australia
Fundraising Coordinator
E-mail: Maria@FWE-Cambodia.org
Phone: +61 400 001 315
Skype: Marialucile

Maria currently lives in Melbourne. She is involved with general fundraising, collecting laptop computers for our Siem Reap schools and is developing a comprehensive program for our volunteers so that we can integrate smoothly with the efforts of the teachers at the schools. Maria brings her teaching and administration experience (Elementary, Middle and High School), in the areas of English, ESL, Special Education to the group. She became involved in FWEC after meeting Chantrea Chhuon in December, 2011. She continues to visit Cambodia regularly on behalf of FWEC.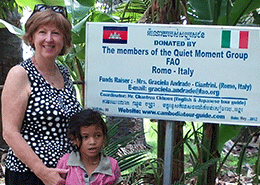 Tina Etherington
Rome, Italy
Fundraising Coordinator
E-mail: Tina@FWE-Cambodia.org
Skype: Tina.Etherington

Tina is a British National but has lived in Rome, Italy for many years. She is involved with fundraising amongst the international community in Italy and brings her communication and outreach experience to the group. She became involved with FWEC in 2011 through Graciela Andrade and has organized many fundraising events to sponsor wells and bicycles. She visited FWEC in November 2012 together with Graciela and returned again in February 2013 (when she took the opportunity to teach English at our sponsored Sret school) and November 2013. Her fourth mission was in November/December 2015.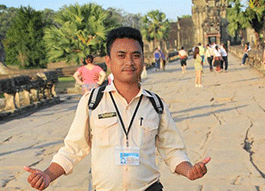 Kosal Seang
Siem Reap, Cambodia
Fundraising Coordinator/Volunteer
E-mail: Kosal@FWE-Cambodia.org
Skype: Kosalseang

Kosal was borne in Siem Reap. He was very struggled and eager to learn everything to becoming a knowledgeable person for a good job in the future even if in home there were nobody support him for the school. During his study time, Kosal tried to make some money for supporting his study of English by selling some postcards, souvenirs among visitors who visiting Angkor Wat temple. His dream was becoming a great tour guide.

His dream comes true! After he has a job making his lives better, but he's never forgeten the lives in the past. He wanted to help those people in need that are struggling which is similar to his lives in the past. Kosal becomes involve with FWEC for a Volunteer bringing tourists/donors to the site of project and join in the efforts of Chantrea and FWEC as well as other NGOs in Cambodia.