School Supplies
RECENT HISTORY OF EDUCATION IN CAMBODIA
At the beginning of the 1970s, more than 20,000 teachers lived and worked in Cambodia, only about 5,000 of those teachers remained 10 years later and it is unknown how many were in a position to teach. Soviet sources report that 90 percent of all teachers were killed under the Khmer Rouge regime. Only 50 of the 725 university instructors, 207 of the 2,300 secondary school teachers, and 2,717 of the 21,311 primary school teachers survived. The meager educational fare during the regime was centered on precepts of the Khmer revolution; young people were rigidly indoctrinated, but literacy was neglected, and an entire generation of Cambodian children grew up illiterate. After the Khmer Rouge were driven from power, the educational system had to be re-created from almost nothing. Illiteracy had climbed to more than 40%, and most young people under the age of 14 lacked any basic education. (Wikipedia).
For more detailed information please visit and support Wikipedia
As a result of these horrors, the schools and students are struggling to initiate new programs and complete an effective education. The desire and drive of the teachers and students is inspiring, they simply don't have the resources that most others take for granted. The Cambodian government had an education budget of $251 Million in 2011 for the entire country, barely being able to pay the teachers their $20 - $50 per month salary. It is a fundamental belief at FWEC that if we can have a positive effect on the basics of life and education, those effects will continue to grow on their own as people improve themselves, their families and their futures.
Please help us to build a better life through education for the families and villages of Cambodia. DONATE
SCHOOL SUPPLIES
Having the basic such as uniforms, school supplies and bicycles for transport enable the children of Cambodia to attend school and secure a future for themselves as well as their families. Many of the children we work with come from the poorest families in the countryside. They come with a drive and determination instilled in them by their families and Camabodian culture to get a good education and create a better future. To help them succeed FWEC, through the support of our donors, works with several of the area schools to supply the basic necessities for the children. Please help us make our Education Support Program successful!
Average cost of a school uniform $12.00
Average cost of a pair of sandals $4.00
Being able to stand proud in class - Priceless
FWEC works in collaboration with some of the local orphanages to help supply the children with school uniforms and sandals. With your help and support we can insure that all the children have the necessary uniforms that are standard in Cambodian schools.schs
In 2013 FWEC has a goal of supplying 50 children with uniforms and sandals.
Students are required to pay for almost all of their own school supplies. The teachers in turn must pay for a lot of the supplies and equipment that they need to teach effectively. These items include Pens & Pencils, Notebooks, Textbooks, Chalk & Erasers, Workbooks, teaching aides and just about anything else that one could need. FWEC, throught the support of its donors, helps to offset some of these costs for both the students and teachers. Every little donation can go a long way in keeping a student in school and to help the teachers give a better, more thorough education.
Many people have asked if they could ship materials to Cambodia. Although it is possible, oftentimes things get delayed or lost in transit. The delivery systems within Cambodia can be somewhat challenging. It is for this reason that we request cash donations. Cash transfers very easily and the materials that are needed are available in Cambodia at very reasonable prices. FWEC's use of domestic materials and suppliers is fundamental in our effort of keeping as many of the benefits of our work and sponsor donations within Cambodia. Keep in mind, the cost of shipping one book is often more than it would cost to keep a student in school for one year!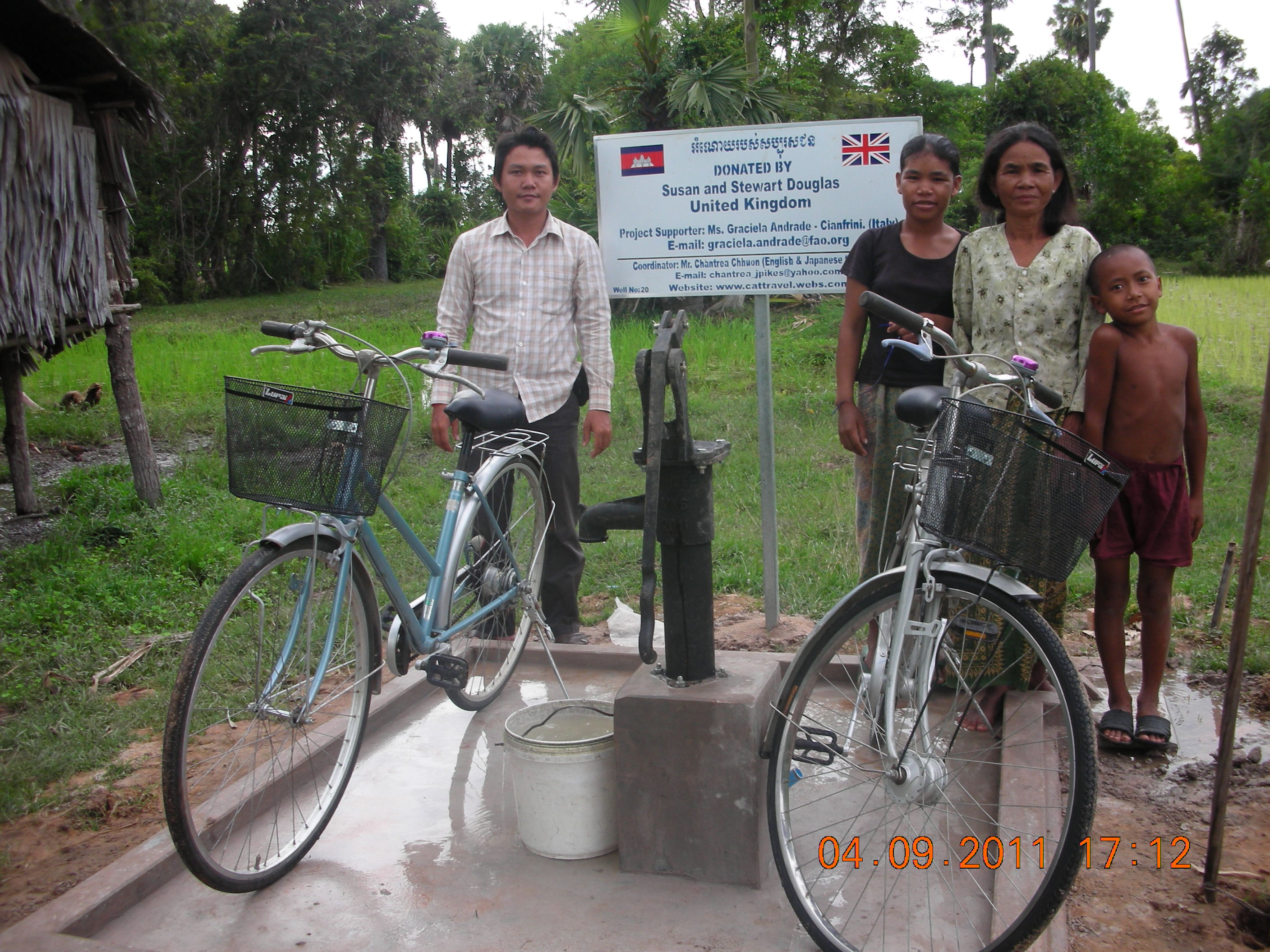 When it comes to getting to school it is hard to find a group of children more eager and willing than those of the Cambodian countryside. No matter the distance, they go out each day and make their way to the school grounds. Unfortunately for many, their famillies are faced with the choice between letting their children go to school or needing them to work in the fields. It is a simple equation of time; 8 hours in school + 3 hours round trip to walk = Not enough time to work the fields and secure that years harvest.
Having bicycles allows the children to make it to school much quicker and still have time to help the family in the fields. It may sound like a hard burden for a child, but the whole family is aware of how having that education will help the entire family to prosper.
For the cost of $45 you can insure that a child has the opportunity to go to school.
While the team at FWEC is working in an area doing assessments, they will inquire about any families whose children are in need of a bicycle to make the distances to school. As the bicycles are acquired by FWEC, we will deliver the bicycle to the most appropriate family. Often a family will have more than one child going to school so they will double up on the bike. Imagine an attitude where a thought is not given to the chance of a tumble on the way to getting an education. There are 2 sizes of bicycles that FWEC supplies and the size chosen is based on both the families current needs and their future needs as the children grow.

STUDENT AIDE
When looking at how little is costs keep a student in school, keep this in mind; the poverty line in the rural areas of Cambodia is set at US$0.25 per person per day for their basic necessities such as food, housing, clothing and transportion. Despite these seemingly low numbers, 53.7% of the population in Siem Reap is still living below the poverty line.
The children start school at age 6, they spend 6 years in primary school, 3 years in lower secondary school and 3 years in upper secondary school. This education is supplied by the government and is free for all students. The children however need to pay their own fees for uniforms and study materials. Additionaly, once they are in the upper secondary classes, they need to take extra classes in preparation for taking the standard government exam. Passing this exam is required in order to receive their certificate of completion (Diploma).
The additional instruction for these subjects has a cost of approximately $0.15 per hour, per subject, and they study 6 days per week. On average a student will need $1.00 / week for these classes.

The textbook "English for Cambodia", Books I,II,III cost $0.90 each.

Students would complete their studies at age 18. Estimates indicate that less than 24% of the boys and less than 0.5% of the girls will graduate.
FWEC works with families and schools to help out with the additional costs of education. With your support we will be able to make sure that students will not be forced to leave school simply due to lack of funds.